New To Commercial Property & Property Rental?
New To Commercial Property & Property Rental? | Hap Seng Property
Monday, 26 August 2019

Are you interested in renting a property but don't know where to start?

If this is your first venture into renting a property in Malaysia, there are a few things you will need to remember before you head to the bank. In order to help you get on the right track, these are three questions you will need to ask yourself before you make your next move:
#1 What Facilities Does Your Property Type Offer?
There are many types of properties in the market. From commercial office buildings to industrial hubs, there are plenty of options to choose from depending on your own business needs. However, there are a few things you will need to know about your chosen property type and the facilities it offers.
Commercial Office Building
If you are looking for commercial office buildings, take into consideration that these buildings offer space for retail, office, conference centres, and business centres. It should be near public transport, be surrounded by easily accessible amenities, and have a welcoming working environment. If your business requires these features, then you have made the correct decision with your property type.
A key point to look out for is buildings with a MSC status. This status is a recognition by the Malaysian government for world-class service and development. These properties offer a comfortable working environment with amenities that provide convenience and a work-life balance. One of the said buildings is the Plaza Hap Seng—a green grade building with Malaysia's first ever 85m green wall, that offers connectivity with its prime location in the city centre.
Industrial Hub
But if you are looking into industrial hubs, know that these hubs will offer retail, food and beverage spaces, as well as warehouses. They should also be easily accessible with a conducive environment for productivity. So ask yourself if these features will meet all the needs of your specific business, and align the property of your choice with the nature of your business itself.
#2 Where Is The Best Location For The Property Types?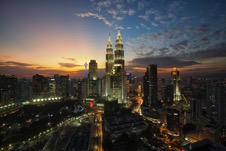 Once you are certain on the type of property, you must now ask where the best locations are for the specific type. If you are hoping to rent a commercial office building space, you will need to ensure that the location is ideal. Spaces in the city that are close to public transport and amenities are what you should be aiming for. Such locations will help your business thrive by being easily accessible to you, your employees, and your clients.
However, if you are looking to rent in an industrial hub, it will be ideal if the location is close to both the airport and the city centre—perfect if in between for import and export businesses. The prime location is where trading can be done at ease and at a low cost. Remember, location is extremely important. Renting a property that is poorly located will cost you instead of helping your business to grow.
#3 Is The Property Group Reliable?
Now that you know what you want, you will need to find a property group that is reliable. When looking into properties, do not overlook the property group themselves. A few good questions to ask are… is the property group proactive with their property development, does the property group boast in using superior materials for their projects, and has the property group won any notable awards?
It is advisable to learn more about the property groups while looking into the properties they have to offer. After all, you are not just renting a commercial property but you are putting your trust in the developers to provide you with the best they have to offer.
Now that you have these questions answered, you can start taking active steps into finding the right property for you and your business. And if you know someone who is planning to rent a property soon, be sure to ask them these questions as well. After all, many mistakes are made in the early stages when business owners don't know what they truly need.
Hap Seng Land is an award-winning company with a reputation for practicality, quality, and innovation. Known as Sabah's leading developer, they now have high profile commercial and residential high-rise developments in the Klang Valley. Find out what Hap Seng Land has to offer now!